Academics
Noteworthy Newsletter | December 2016
A digest of recent faculty and staff accomplishments and scholarly and artistic activity
Awards, recognition and service
Arthur A. Dugoni School of Dentistry
Pacific Center for Special Care led by Director Paul Glassman has received a $400,000 grant from the North Bay Regional Center (NBRC). The funding will support the use of the Pacific Center's "Virtual Dental Home" system throughout Sonoma, Napa and Solano counties to provide diagnostic services, and prevention and early intervention care for people with complex developmental, medical and physical conditions. NBRC is one of 21 regional centers for people with developmental disabilities in California. Read more>>
Veterans outreach
Dugoni students, faculty and staff volunteers provided free dental check-ups to nearly 30 military veterans on Nov. 10 in San Francisco and throughout the week at the Union City clinic. In an effort to help a larger segment of the veteran community, we are also offering reduced-fee dental services to veterans as part of an ongoing program. Read more >>
Valeria Donald, Dental/Medical Assistant in the Oralfacial Pain Center, was named Employee of the Quarter at the Arthur A. Dugoni School of Dentistry. Donald is involved in many aspects of the school and currently serves as chair of the Dental Staff Advisory Council. She also is an enthusiastic member of the Employee Volunteer Opportunities Committee. The Employee of the Quarter program is designed to recognize staff employees for their hard work, contributions to the dental school's mission and core values, teamwork, leadership and other achievements. Learn more >>
Marie M. Tolarová, Professor of Orthodontics, received the ICPF Award of Merit from the International Cleft Lip and Palate Foundation in honor of her lifelong devotion to cleft prevention. The award was presented during the 10th World Cleft Lip, Palate & Craniofacial Congress held Oct. 26-28 in Chennai, India. Tolarová served as a faculty member of the conference, gave a keynote presentation, and organized and led the symposium "Prevention as a solution of global health issues related to cleft lip and palate." Tolarová also gave a lecture at the Bharath University Sree Balaji Medical and Dental College and Hospital in Chennai as part of a continuing education program on "Etiology and Prevention of Cleft Lip and Palate."
Center for Professional and Continuing Education
Pacific's Osher Lifelong Learning Institute (OLLI@Pacific) led by DeeLynn Rivinius, Program Director, received notification and approval of a $25,000 capacity-building operating grant for the 2016-17 academic year from The Bernard Osher Foundation. The grant is intended to support initiatives that enhance the fiscal health of the endowed Osher Institute and expand its membership and service to the community. Grant funding will be used to initiate a donor recognition and cultivation program as well as a volunteer recognition and cultivation program and to support increased fundraising activities and enhance current program and membership development efforts. Read more>>

Marketing and Communications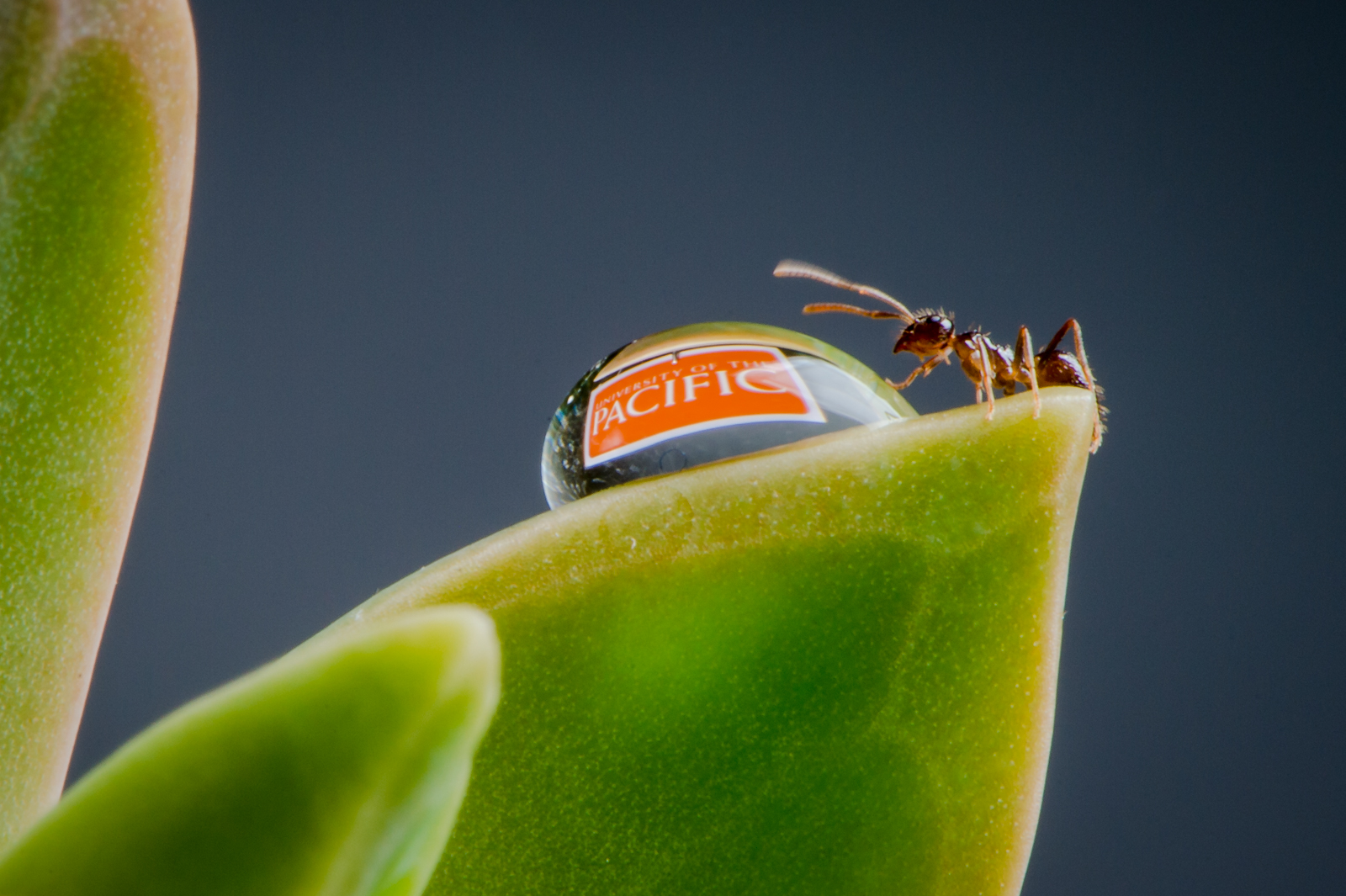 Jaslyn Gilbert, photographer, received first place for October in the science and research category from the University Photographer's Association monthly photo contest for her photo depicting the "Backyard ANTology" research project in biological sciences.
Publications, presentations and artistic endeavors
College of the Pacific
Cynthia Dobbs, Associate Professor of English, presented "Materiality and the 'Splendid Failures' of Lyric Protest: James Agee, Walker Evans, and Claudia Rankine" at the annual Modernist Studies Association conference on Nov. 20.
Cosana Eram, Assistant Professor of Modern Language and Literature, was an invited speaker in the seminar "Dada 100" at the Modernist Studies Association (MSA) 18th Annual Conference: "Culture Industries" in Pasadena, California, Nov. 17-20.
Carolynn Kohn, Associate Professor of Psychology, co-authored the paper "Examination of a Multi-Element Intervention on College Students' Electricity Consumption in On-Campus Housing," published in Behavioral Interventions. Alumni Nicole Schultz '14 and Alyssa Musto '12 were co-authors.
Alan Lenzi, Associate Professor and Chair of Religious Studies, presented the paper "Counsels of Wisdom as 'White-Collar' Wisdom in First Millennium Ancient Mesopotamia" at the international symposium "Teaching Morality in Antiquity: Wisdom Texts, Oral Traditions, and Images" at the University of Leipzig in Germany.
Caroline Schroeder, Professor of Religious Studies, co-authored the peer-reviewed, open access article "Applying the Canonical Text Services Model to the Coptic SCRIPTORIUM" in Data Science Journal. The article examines and offers models for data modeling, citation practices and metadata curation for complex digital humanities text corpora.
Arthur A. Dugoni School of Dentistry
Mirek Tolar, Associate Professor of Orthodontics, gave the invited presentation "Early response of human mesenchymal stem cells to mechanical force and supply of oxygen - research and clinical perspectives" and Amin Samadian, Instructor of Integrated Reconstructive Dental Sciences, presented "Social media in education towards cleft prevention" at the 10th World Cleft Lip, Palate & Craniofacial Congress held Oct. 26-28 in Chennai, India. In addition, third-year DDS students Christine and Michelle Stepanek co-authored a presentation that was presented by a local student on their behalf.
Thomas J. Long School of Pharmacy and Health Sciences
Elaine Law, Assistant Professor of Pharmacy Practice, Abigail Lin '17, Connie Lin '17 and Jessica Liang '14 presented the poster "Cost-Effective Analysis to Evaluate Potential Replacement of Traditional a PTT testing with Anti-Factor Xa at a Small Community Hospital" at the American Society of Health System Pharmacists 51st annual Midyear Meeting in Las Vegas, Dec 4-8. Law and Lydia Foo '17 were co-authors of the poster presentation "Assessing adherence to guideline weight-based dosing of pre-surgical antibiotic prophylaxis in OB/GYN patients at a community hospital" at the meeting.
Cynthia S. Valle-Oseguera '12, Associate Professor of Pharmacy Practice, and Eric Boyce, Professor of Pharmacy Practice and Associate Dean for Academic Affairs, co-authored "Dentists and pharmacists: paradigm shifts and interprofessional collaborative practice models," which was published in California Pharmacist (63:4).
McGeorge School of Law
Linda Carter, Emeritus Professor of Law, co-edited the book Two Steps Forward, One Step Back: The Deterrence Effect of the International Criminal Tribunals, published online by the International Nuremberg Principles Academy. Carter also co-authored two of the book's chapters. The book presents 10 case studies of conflict and post-conflict countries in which an international criminal tribunal has played a role. Carter also co-autored The International Criminal Court In An Effective Global Justice System (Edward Elgar, 2016). The book analyzes how the ICC can best coordinate with other national and regional mechanisms and the UN Security Council to establish an international system that ensures accountability for atrocity crimes. Read more>>
Rex Frazier, Adjunct Professor, presented "The Capital Lawyering Concentration and Courses" highlighting McGeorge's cutting-edge curriculum at the conference "Drafting Statutes and Rules: Pedagogy, Practice, and Politics," at Duquesne University School of Law in Pittsburgh, Pennsylvania, on Dec. 3.
Franklin A. Gevurtz, Distinguished Professor of Law, had the article, "The Overlooked Daisy Chain Problem in Salman," published in the Boston College Law Review (58:6).
Michael P. Malloy, Distinguished Professor of Law, was a new co-author on the 8th edition of Contracts in a Nutshell, co-authored by Claude Rohwer, Emeritus Professor of Law, and Anthony M. Skrocki, Emeritus Professor of Law, published by West Academic (November 2016). Malloy also will be an active participant in the Association of American Law Schools (AALS) annual meeting in San Francisco Jan. 3-7. He is an organizer, moderator and speaker for the concurrent session "Roundtable on Financial Services" and the all-day session "Socio-Economics of Law School Pedagogy," and is the speaker for "Principles of Socio-Economics in Teaching Scholarship and Service," a section program for new law teachers.
Francis J. Mootz III, Dean, will participate as a moderator and speaker on two panels convened by the Section of Deans at the AALS annual meeting.
Michael Vitiello, will be presenting a paper "The False Dichotomy Between Theory and Skills Training: Why Good Lawyers Need to Pay Attention to Theory" on legal scholarship at a panel on legal pedagogy on Jan. 4, 2017, at the AALS annual meeting.
University Libraries
Mary Somerville, University Librarian, discusses the relevance of Participatory Action Research in a blog interview "Methods in Action: Participatory Action Research," published on MethodSpace by Sage Publications, as well as Social Science Space and SAGE Connection. The interview considers the implications of her commissioned case study, "Participatory Action Research: Improving Professional Practices and Local Situations," published in SAGE Research Methods Cases in 2014.
Athletics
Brian Kolze, Head Coach for women's softball, was inducted into the Stockton Athletic Hall of Fame last month. Kolze enters his 25th year at the helm Tiger softball as the 2017 season kicks off with preseason play in February. Kolze has won over 700 games leading the Tigers and has been named Coach of the Year by the conference four times: in 1998, 2001, 2002, and 2011.