Time for all good tigers to play Santa to those in need in our community
Announcements
Holiday giving opportunities on our three campuses
The holiday season is here and the spirit of giving is alive throughout the University community. There are many ways to help those in need and make a difference in our communities, as organizations and groups throughout the university are coordinating outreach efforts. In addition to the annual Holiday ROAR book drive, here are other giving opportunities to help make a difference for someone this holiday season: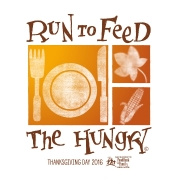 Run to Feed the Hungry-Sacramento | Thursday, Nov. 24 | 8:00 am - 12:00 pm
Join the McGeorge Law Team for the 23rd annual Run to Feed the Hungry benefiting the Sacramento Food Bank and Family Services. Team members will receive a "McGeorge Law" team t-shirt and complimentary breakfast before the race. Thanks to alumni, students can receive a discount of $20 off the registration fee of $55.
Please contact Rachel Tochterman at r_tochterman@u.pacific.edu with your name and student number to receive a discount code.
University Center Holiday Giving Tree-Stockton | Nov 1 - Dec 5
Sponsor a foster youth this Holiday season. Choose an ornament from the Giving Tree and make a dream come true for someone still searching for a Forever Family. Return gift(s) to the collection boxes located near the Giving Tree. Donations will go to CASA-Court Appointed Special Advocates for Children and Family Extension Foster Care.
Contact Melinda Westland at 209.639.3964 or m_westland@u.pacific.edu.
Pacific Food Pantry donations-Stockton| Nov 19 - Dec 16
The collection box for the Pacific Food Pantry is located in The Grove. The Mailroom staff will deliver items directly to the pantry from any office. The Pacific Food Pantry supports students, staff and faculty.
Contact Liz Thompson at 209-946-3006 or lthompso@pacific.edu.
Men's and Women's Basketball Holiday Toy Drive | Dec. 17 and Dec. 19
Holiday game nights for men's basketball will be Dec. 17 and for women's basketball will be Dec. 19. Bring an unwrapped toy to the game and receive free admission. Gifts will be distributed children in need through a local charitable organization.
Pediatric Dentistry Study Club Toys for Tots Drive-San Francisco| Nov. 21 - Dec. 9
Arthur A. Dugoni School of Dentistry's Pediatric Study Club is hosting a Toys for Tots holiday drive. New and unwrapped toys can be donated at lunchtime in the 1st floor or at other times in the reception lobby on the 4th floor. Contact Dr. A. Jeffrey Wood at jwood@pacific.edu.
Giving Trees-San Francisco | Dec. 1 - 31
Arthur A. Dugoni School of Dentistry's Employee Volunteer Opportunities Committee (EVOC) is organizing "giving trees" in December. Students, faculty, staff and guests at the school's holiday party are encouraged to donate small gifts and non-perishable food items for children and families, animals and the underserved. Items will be donated to One Warm Coat, SF Animal Care & Control and the SF-Marin Food Bank.
Contact Jennifer McGlothlin at jmcglothlin@pacific.edu.